NON DESTRUCTIVE TESTING INSPECTION SERVICES
Magnetic Particle Inspection (MPI)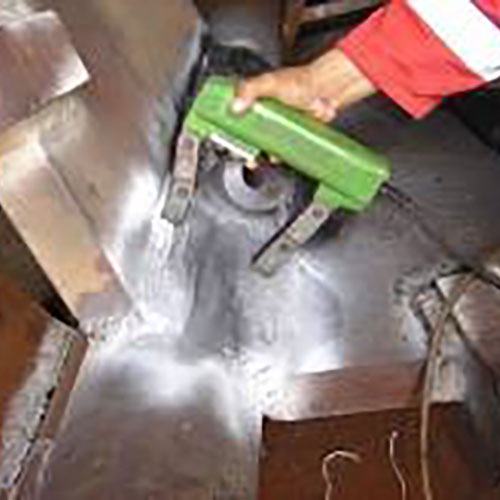 MPT is a nondestructive testing method for locating surface and near surface discontinuities in ferromagnetic materials. It depends for its operation on the fact that when the material or part under test is magnetized, discontinuities that lie in a cause leakage field to the direction of the magnetic field will cause a leakage field to be formed at and above the surface of the part.
Dye Penetrant Inspection (DPI)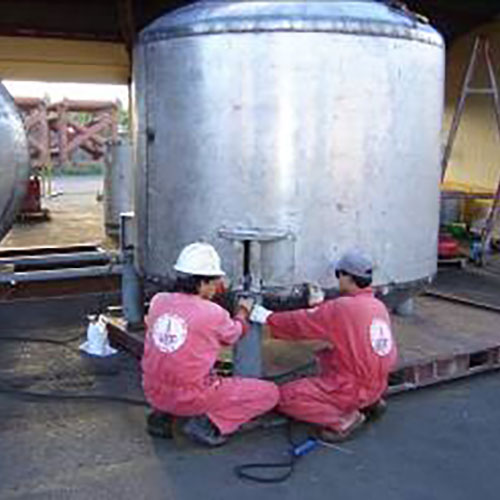 Dye Penetrant Test (PT) is a non – destructive testing insfection method for finding discontinuities that are open to the surface of solid and essentially non-porous materials. Indications of flaws can be found regardless of the size, configuration, internal structure, or chemical composition of work piece being tested and regardless of flaw orientation.
Ultrasonic Wall Thickness Testing (UT)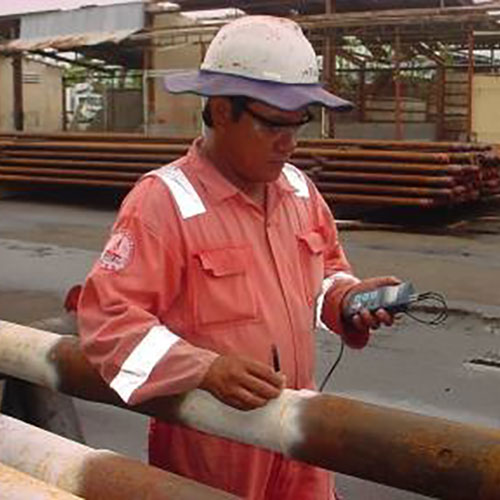 Ultrasonic wall thickness measurement (UTM) is a method of performing non-destructive measurement (gauging) of the local thickness of a solid element (typically made of metal, if using ultrasound testing for industrial purposes) basing on the time taken by the ultrasound wave to return to the surface. This type of measurement is typically performed with an ultrasonic thickness gauge.
Load Testing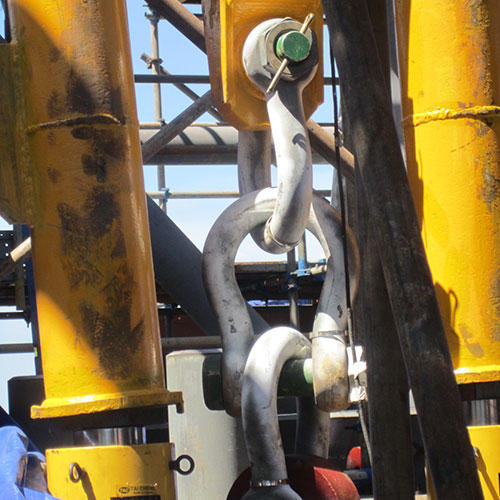 Proof load testing is generally performed to verify the Working Load Limit (WLL) of lifting equipment and accessories. We perform proof load testing on a variety of equipment with Proof loads up 90 TONS. The products are:
Offshore Containers
Offshore Baskets
Skids
Lifting Frames
Slings and Shackles, Spreader Beams,
Mezzanine Decks lifting accessories
Subsea Structures (Drilling Templates, Protective Frames, Etc.)
Running Tools for Subsea Drilling Templates Installations.
We perform load testing is required on installation of any lifting equipment before the item is brought into service, either offshore or onshore.
New installation
Under gone structural repair or modified
Periodic testing requirements.
Pressure Testing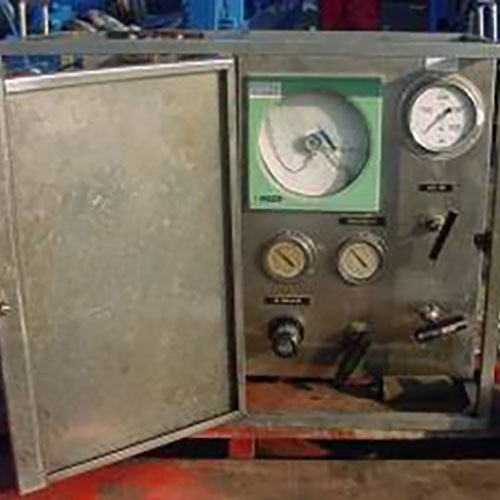 APDS can perform pressure testing up to 20,000 psi. We can perform pressure testing on-site or offshore. APDS can offer a complete package for inspection, Testing, and Maintenance of Flow lines (IRONS) ( Pup joints, Elbows, Plug Valves, Swivel Joints, and etc.) for re-certification, In which the service includes the:
Visual inspection
Pressure Testing (Hydrostatic Testing)
Dimensional Inspection (Ultrasonic Wall test Thickness Inspection)
Abrasive blasting, MPI inspection of Body
Seal Replacement, Hard Banding
MPI inspection of Body, Coating
We do pressure testing on other equipment such as:
Pressure vessels
Compressors
Well Test Lines, Separators
Nitrogen Tanks
Pressure test and setting of Safety Valves & Relief Valves
ENGINEERING DESIGN SERVICES
APDS can provide a cost effective services and can fulfill the design requirements specified by clients. Typical activities we conduct during the different phases of Design include:
Conceptual Design
1. Feasibility Assessment and concept evaluation
2. Preliminary analysis and engineering
Detailed Engineering
1. Detailed design of the complete system and individual components
2. Material selection, coating and corrosion protection
3. Equipment specifications and qualification
4. Fabrication Costing
Design, and Analysis Tools
Some of the key tools we use in our day-to-day activities are listed below :
Autodesk AUTOCAD – 2D drafting
Autodesk Inventor     – 3D Modeling
ANSYS 15                     – Finite Element Analysis
STAAD Pro V8i           – Structural Analysis
FABRICATION, REPAIR & MAINTENANCE SERVICE
APDS-Vietnam has a long history of fabrication experience in the oil and gas industry for onshore and offshore applications and currently some subsea structures in Vietnam, and is familiar with the standards and requirements this entails.
APDS has assisted its clients achieve their objectives of low-cost fabrication, without compromising on quality, safety or timely delivery.
Our service can provide a complete package from Design Engineering, Fabricate, Testing, Inspection, on-site installation. We also provide service for the following:
– Structural Repairs and installation.
– Modify of existing equipments to suit client's requirements.
– Complete refurbishing of equipment.